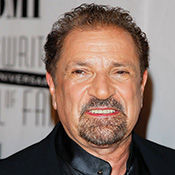 Felix Cavaliere
on SK2


Felix Cavaliere was born Nov. 29, 1942 in Pelham NY. His mother was a Pharmacist and his father was a Dentist. His mother wanted only the best for her only son, and had dreams of him becoming a classical pianist. To reach this goal, Felix was instructed in piano 3 times a week from the time he was 6 years old until his mother passed away when he was 14. Felix's musical influences started to take hold in the form of idolizing the music of Ray Charles among others. He started his first band called The Stereos while in his teens during which time he began to perfect his vocal abilities. He also discovered the Hammond organ around this time and was mesmerized by it's sound. The Hammond later became Felix's own "trademark sound" along with his unique and soulful voice.

Felix continues to ride high on the wave of rock superstardom and his group Felix Cavaliere's Rascals is reputed to he one of the hottest rock bands touring today. With Mike Severs on guitar and vocals, Vinnie Santoro on drums and vocals and Mark Prentice holding down bass and vocals, the sound remains true to the source and leader's vision.

Felix Cavaliere resides in Nashville, Tennessee where he continues to record, write and produce, when not perform to adoring audiences throughout the world.