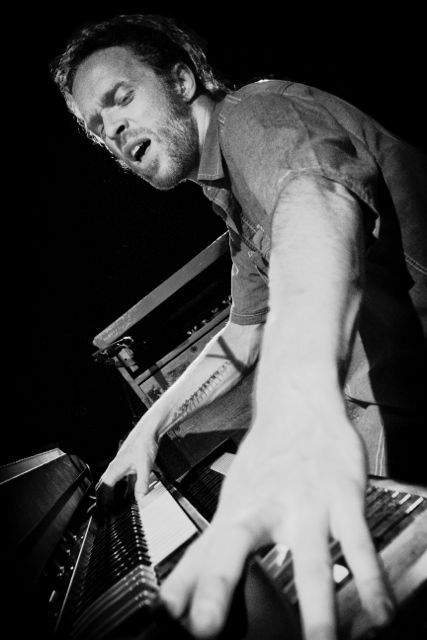 Bob Fridzema
on XK-5 System


Bob Fridzema, born in the Netherlands in 1983, started playing at a young age, on keyboards and piano until his first Hammond organ was bought at the age of 14.

After graduating the Rotterdam Conservatory in 2007 he released an album with Dutch pop band Rigby for Universal, played all the major festivals and tv- and radioshows in the Netherlands which landed Bob his endorsement with Hammond – a brand he'd been playing for more then a decade already.

Bob joined the band of Stefan Schill and released his first album internationally under the Provogue/Mascot label. Their first European tour took them to the UK and Germany supporting Philip Sayce (USA). Later, Bob joined Dana Fuchs (USA) on tours in Germany, Holland, Belgium, Norway, Denmark, Poland, Czech, Hungary and even India.

Bob joined the UK band 'King King' in 2013 (winner of the Best Band in the British Blues Awards in 2012, 2013 and 2014, 2015) and toured with them all over Europe, India and recorded and released two critically acclaimed studio albums and a live album on the Manhaton records label.

Bob has done recording sessions for various people, one of them being with Ray Davies of the Kinks for the BBC series 'Broken'. After King King Bob has played with Joanne Shaw Taylor (UK), recorded with Beaux Gris Gris (USA), toured with Sari Schorr (USA) and there's more in store for 2018.

Bob has performed/recorded with: Ray Davies (the Kinks), Joanne Shaw Taylor, Sari Schorr, King King, Rigby, John F. Klaver, Case Mayfield, Stefan Schill, Dana Fuchs, Eric Steckel, Aynsley Lister, Till Benewitz, Ben Poole and many more.

"The look and feel and most importantly: the sound of the XK gives me the true feeling of playing Hammond organ. I bring it on tour where-ever I go, and it never lets me down"